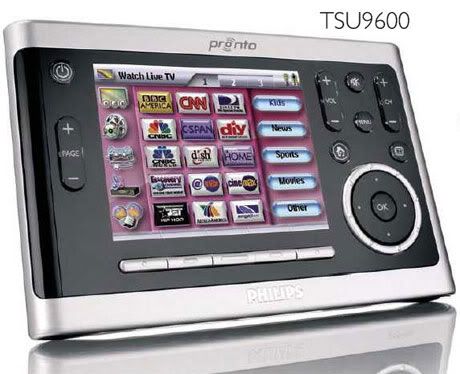 Philips made official today a bunch of devices that have trickled out over the past few weeks. The Pronto TSU9600 remote costs more than my Philips HDTV. This remote includes compatiblity for virtually every device known to man through IR support. It, unfortunately, doesn't include RF, but for $1,299.99, I guess you can make a concession (nice logic). It has 64MB of onboard memory and is updated via WiFi.
Another device announced today was its Portable Media Center. This is basically a PMP that adds DVR capabilities. It includes support to MP3 and all sorts of other formats, including PlayForSure services. The PMC7230 has a 30GB hard drive and will be available for $349.99.
Finally we get the Philips BDP9000 Blu-ray player. It has HDMI support and a 1080p resolution. The player also includes component video output and can up-sample those old-and-busted DVDs to 1080i. It will be available for $999 at the same time as these other devices this October.