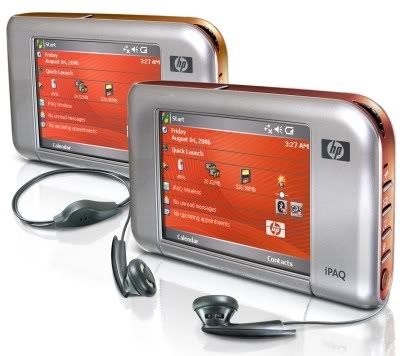 Oh boy. HP made a PMP. The iPaq rx4000 has a 2.8-inch screen and uses Windows Mobile 5.0 to play back MP3s and video. It's also compatible with many VOIP apps so you can use it as a wee phone around the house over WiFi. Finally, you can hook up your phone with Bluetooth.
Best of all? There's a scroll wheel. Yeah. I know. Another mylo/Nokia 770-alike. Sorry.
HP iPAQ rx4000 Mobile Media Companion Announced [Mobility Site]
Full specs after the jump.

* Choose to view digital content in either landscape or portrait mode to maximize the viewing pleasure of videos, photos and games.
* A scroll wheel for a single, smooth, one-handed operation for access and navigation of digital content.
* A large 2.8-inch-wide anti-glare touch screen to quickly launch media applications for entertainment gratification.
* The HP iPAQ rx4000 Mobile Media Companion series, which is built on Microsoft Windows Mobile 5.0 Software for Pocket PC, also includes a suite of connectivity options, such as integrated Wi-Fi and Bluetooth, enabling consumers to stay connected on the go.
* Built with integrated Wi-Fi, consumers can connect to their email and the Internet to get real-time information and download music or movies. Consumers can also download VoIP software to make free PC-to-PC calls and fee-based calls to landlines and mobile phones, staying connected to loved.
* Bluetooth technology enables consumers to connect to other Bluetooth devices, such as wireless stereo headphones, mobile phones and wireless printers.
* Built on Microsoft Windows Mobile 5.0 Software for Pocket PC, consumers can synchronize their calendar and contacts with ease, while getting work done on the go with popular Microsoft applications, such as Word, Excel and PowerPoint.